Welcome to the online home of the Samuel Pennypacker Masterminds
---
Attendance Adds Up – Help to strive for 95
Please use the link below for more information Absencesaddup
---
Home and School Flyers
Click on Flyer to get full size display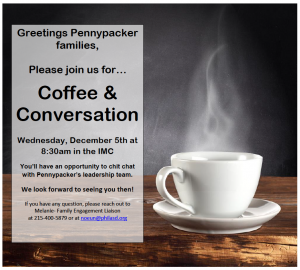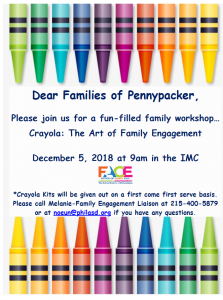 ---
Pennypacker has some after school clubs!
Ms. Lee and Ms. Podolsky are helping to run some after school programs to help enhance our student's experiences at Pennypacker
Click on the link for the form to sign your student up
Dance/Movement Club – Wednesdays with Ms. Lee
Scrabble Club – Mondays with Ms. Lee and Ms Podolsky
Double Dutch Program – Thursday, Friday and Saturdays (when approved and scheduled) with Ms. Lee
Girls R Achievers Book/Mentoring Club – Tuesdays with Ms. Lee
For more information please contact Ms. Lee
---
Samuel Pennypacker is getting over 1,000 books from Holy Family University
The athletics department at Holy Family University is donating over 1,000 to Samuel Pennypacker on December 3ed. Students in grades 4-8 will be welcoming HFU in an assembly on December 3rd, 2018.

---
PENNYPACKER ELEMENTARY IS GETTING A PLAYGROUND!!!

Through a generous donation through
 The Lindy Family Charitable Foundation,

Samuel Pennypacker Elementary is getting its yard refurbished and getting a new playground installed.
Here is some information on the company and the process
---
Here are some links to help you with the 2018-2019 school year
Please use button below for knowing all rights and responsibilities for students in regards to attendance/behavior and all other issues.
---
BREAKFAST STARTS AT 7:40 AM. All students enter through the back door on the Washington Lane side of the yard.  The building will not be open before then and the building does not open for business till 8:00 AM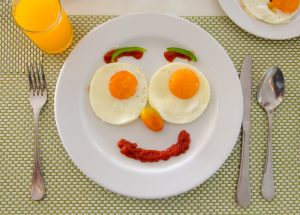 Join the REMIND text program.  If you text @parentspp1 to 81010 you will join our text reminder program. We use this programs to remind about days off, let you know about program changes and of course early closures or full day closures due to weather and other issues.  Please join so you are kept in contact with all information and changes.
---
December Calendar and notes
Click on calendars to enlarge